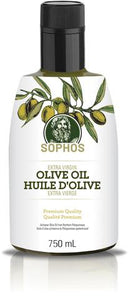 SOPHOS Extra Virgin Olive Oil
Regular price $26.99 Sale
Sophos Extra Virgin Olive Oil is cultivated in the small town of Salmeniko, located in the regional unit of Achaea, which is in the north-west part of the Peloponnese Peninsula of Greece. The cultivation of olive trees in this area dates back many hundreds of years, and the unique green olives of the tree known as Koutsouroelia produce an extra virgin olive oil of exceptional quality, aroma, and taste.
For our family's Olive Grove we have adopted biological farming methods, which means that the olive trees are never subject to any chemicals, hormones, antibiotics, or genetically modified organisms. Our early harvest oil always comes from the first pressing of the olives, and no chemicals or hot water are added during the process. With a mountain at its back and a natural flowing river running through it, this small historic town is perfectly located to produce some of the finest olive oil in the world! 

***Greenly aroma, hints of Tomato Leaf and Green Fruit, well Balanced with a Spicy finish.